2017 was the year of books for me! I was able to read and review 26 books (I'm both a little surprised and proud of this). I didn't want to rank the books best to worst, so I rated them based on their categories. Without further ado, here we go!
Best Fiction 
The Rules of Magic by Alice Hoffman
The Rules of Magic revisits the Owens clan- not Sally and Gillian this time, rather the eccentric aunts- Fran & Jet. The story follows the aunts and their brother Vincent as teenagers who discover their magical lineage and all the perilous adventures they have as a result. The 1960s backdrop of the novel creates a kaleidoscope of magic that twists and turns as the story unfolds. It's less hippy star-child, and more awakened thrill seeking. Growing up in a strict household, when Franny turns 17, she receives an invitation to spend the summer with her eccentric aunt in Massachusetts (in that glorious white house we remember from Practical Magic). The three head off and are initiated into magic-by making black soap at the full moon, collecting herbs for their neighbours woes, and scrying a black mirror that shows the future. Once again the home served as a sanctuary and respite from the children's overbearing mother who forbade magic and falling in love. One day, their spunky cousin April comes for a visit who tells them all about their ancestor- Maria Owens- who was responsible for the Owens "love curse." As we saw with Practical Magic the Owens tend to play a dangerous game of love vs fate. Franny is cautious, Jet is passionate, and Vincent is reckless. The story takes us from their magical awakening in Massachusetts, to their adult life running an Apothecary in NYC, and to their first meeting with Sally and Gillian. Along the way we find ourselves becoming entangled in their love affairs, grieving at funerals, and soothsaying what appears to be their fated futures. It's hard not to become emotionally involved with these characters whose innocence, determination, and risk taking, tugs at your heart strings- at times making you cry and smile.
Readers and fans of the Owens story know, that death is a frequent visitor for the Owens and The Rules of Magic are no exception. Tempting fate and risking love are the common themes throughout this story- but we see so clearly how it is loss, heartbreak, and destiny that weaves the most powerful spell of all. Alice Hoffman's most successful achievement with both Practical Magic and The Rules of Magic is that she makes us realize that magic is not about waving a wand or dancing naked under the full moon (partially clothed will suffice), rather magic is an inherent gift we each possess- we either live our lives defeated-surrendering complete control to kismet, or we actively co-create our realities through adding a heavy dose of love to everything that comes our way. Magic is what you make of it, and as we have learned from the Owens the only rule of magic, is that magic is boundless- we create our own rules through the choices we make. A pinch of salt, some lavender, and a black cat doesn't hurt either.
2. The Stargazer's Embassy by Eleanor Lerman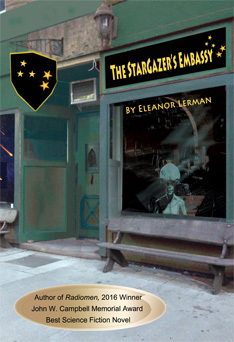 The Stargazer's Embassy is unlike any alien novel written before. Thought provoking and addictive, this is a must read and should be on everyone's e-reader and book shelf. Judging by the title, what appears to be a quirky cosmic sci-fi novel is actually a rich metaphysical novel that ponders some important existential questions. What really happens after death? What are aliens' intentions? Can we ever truly escape our past?
The story follows a woman named Julia who finds herself part of an alien conspiracy and wants no part of it. She's a house-cleaner who is trying to move on from her new-agey childhood and mommy issues. All she has is a tattoo, and a place called The Stargazer's Embassy, where people come and go, like life itself. We find her at various points in her life struggling with this issue, and trying to make a life for herself. Along the way we are introduced to some interesting characters who find themselves implicated in the very same alien problems she's trying to escape from.
Julia's defiance of involving herself in this haunting issue is what makes this a stand out novel. We don't see Julia enthusiastically throwing herself into the unknown. We see a truly scared, annoyed, and assertive character who becomes the anti-hero. There is a will she or won't she anticipation that hooks the reader and offers a certain emotional and psychological realism. There are plenty of alien encounters in the novel to satisfy traditional science fiction lovers, but it takes it a step further by offering a multitude of spiritual questions. It is because of this, that The Stargazer's Embassy becomes an exploration of the meaning of life.
Suffering from emotional abandonment issues, the aliens become a metaphor for Julia's strange childhood. In essence, she herself is an alien- trying to create a life for herself that she's never known. Losing her mother with many unanswered questions, Julia hopes her encounters with the aliens, or "things" as she likes to call them, will provide her with the answers she needs. The aliens themselves are not exactly sure what they're looking for and this in turn becomes a mirror for Julia and other "experiencers" encounters. If we all had the chance to travel throughout the cosmos like the aliens- would any of our questions be answered, or would we be even more confused? Julia spends most of her life searching for answers, but it is the very place she is running away from that provides her with the comfort she seeks- The Stargazer's Embassy. The aliens have just as many questions as Julia and her friends do, but appreciating life for the journey it is, is all that counts in the end. Everything has a beginning and an end, so rather than spend lifetimes dissecting what it all means, it is important to treasure every waking moment, because it is those moments that stitch the fabric of our lives. There are two things we must do in our lifetime, be born and die. Everything in between is alien compared to the certainty of those two things.
I appreciated the humour associated with the aliens and their un-friendly demeanors. Once again they did not come across as stereotypical menacing superior beings, but relatable drifters who seemed genuinely lost. The story was perfectly paced and the first person narrative was a great way to keep the reader invested in Julia's journey.
In essence, each of us have our own Stargazer's Embassy- a place, either imagined or real where we are able to go to find comfort and peace- knowing that the answers we seek, are in fact seeking us. The Stargazer's Embassy is a place where people- human and inhuman come and go, like life itself.
*A big thank you to Sarah Miniaci at Smith Publicity Inc. for being kind enough to send me a paperback copy to review. You're friendly correspondence and enthusiasm for this book has me looking forward to reviewing other Smith Publicity Inc. books!
3. The Goblins of Bellwater by Molly Ringle
The Goblins of Bellwater was one of the most unique stories I have ever read. I applaud the author for choosing to write a book about a supernatural creature that does not get featured in literature very much. The storyline was captivating and kept me hooked from the beginning until the end. Its dark magic crept into each of the characters lives, making this an eerie tale of forest fae, temptations, and sacrifice. There was a certain realism to the story and characters that makes me wonder if there aren't goblins hiding in every forest around the world? I loved how the it took place in Washington state which is a lovely break from the traditional supernatural locations of London and New York. There was enough romance to satisfy supernatural romance lovers and enough of a background story of who the goblins were, that mythology readers would appreciate. Incorporating other mystical creatures aside from the Goblins was a lovely added touch- along with the nod to environmental protectionism. There are times when the story becomes a little vulgar which is needed in order to demonstrate the effects of the Goblin magic, but it seemed a little predictable and I would have liked to have seen a darker effect on the humans as opposed to eroticism. Overall this book was original, uncomfortable, and addictive. I know that fans of supernatural and fantasy genres will adore it and it will perhaps start a goblin trend in other books to come. I do hope there is a sequel and for some reason I can't help but think that Bellwater is not quite done with the Goblins.
Best New Age/How To's
1.  Womb Awakening: Initiatory Wisdom From The Creatrix of All Life by Azra Bertrand & Seren Bertrand
An exploration of the divine feminine, an intricate look at the hidden feminine/womb symbology throughout cultures, times, and places, and the explanation of the womb as a spiritual gateway- this book was groundbreaking on a number of levels. As someone who has recently become very interested in the divine feminine, I have been on the hunt for a book like Womb Awakening for quite some time. This book will shock you, awaken you, and inspire you to open yourself up to feminine consciousness. Feminine consciousness is described in the book as a metaphor for cosmic creation. When we begin to honour the feminine and all that is encompasses such as mothering, nurturing, creativity, intimacy, and intuition, we can not only heal ourselves- but we have the opportunity to the heal humanity because the feminine boils down to LOVE. Since we all came from the Great Mother of the universe, we are all starseeds encoded with the feminine- we each have the power to create and to destroy.
The book went in a few different directions and proposed that the ills of the world can be attributed to the disconnection to the feminine- a soul loss. It's not about being a woman or a man- feminine goes beyond that as we each have both within us. This book explores why there is a need to embrace the feminine cosmology again after thousands of years of patriarchy.
Rather than chapters, this book contains Spirals- which are sections of the book that explore the mysteries of the feminine deeper than what a chapter could. The spirals themselves will be explained later in the book as the original chakra system- a feminine spiral path that energy flows mirroring a cosmic portal. This supports one of the main tenets of womb consciousness which is that flow with life is the feminine mystery. There is a deep discussion of the Womb of God which explains womb consciousness. I would have preferred if that was at the beginning of the book prior to the long discussion of womb symbology. Throughout the book Womb Oracles were a creative way to eloquently express and digest the chapter it followed, and were channeled by the authors who journeyed deep into the feminine. This gave a great visual. A plethora of tips on how to connect to womb consciousness such as breathing techniques and posture poses were extremely helpful and reader friendly.
This book went places other books on the divine feminine did not. There were discussions on the cerebellum, the spiritual meanings of conception, gestation, and how the four elements are connected to birth, which was ingenious. The lunar consciousness discussion was unique, and I would have loved more information on that because there aren't any books that have explored that from the angle of Womb Consciousness. The trickster archetype to explain the loss of the feminine was original along with the sacred feminine medicine wheel.
If I could sum up what Womb Consciousness is, this is what I would say:
-Womb is a place of sacred union- where we lose the "I' and become one with source
-Womb as a stargate, a reservoir of cosmic knowledge
-Alchemical abilities of the womb- becoming a sacred form of chemistry
-Womb is an archive of trauma and deep emotions
I have never read a book that had so much passion and love poured into its pages. You can really tell the authors have been affected greatly by womb consciousness and have evolved and opened up to the feminine. This is an encyclopedic source while at the same time a love letter and sensory exploration of the feminine that is compelling and inspiring. Womb Awakening is and will be a sacred encyclopedia for generations to come! The book itself is a womb that the reader will journey into, and every page will become a source of light.
2. Crystal Magic by Sandra Kynes
A must read for anyone who uses and or is interested in crystals- whether you are a lapidary or witch- you will find this book to be both grimoire and text book. Crystal Magic is one of the best books I have read about crystals. Most books on this topic simply name crystals and their properties but this book took it a step further. The first part of the book is about the History and Science of crystals which is absolutely needed if you are going to be working with them. It is fascinating learning about crystals and gemstones in antiquity whether it was in astrology, divination, or medicinal uses. Learning about crystals from a scientific perspective such as their mineral compositions, their crystalline structures, and their formations provides a wealth of information about crystals that help you understand their magical properties even more. This section was not overly scientific, so if you are not a sciencey person, you have nothing to fear about this part of this book. This was extremely useful as we can sometimes forget that at the end of the day, crystals come from the earth. Tips on how to spot fake stones was also very helpful as we want to ensure that we are not simply relying on the placebo effect and that we aren't supporting fraudulent distributors. I thought the chapter on crystals grids that are based on the crystalline structures of the crystals to be ingenious as I have never come across information about that before. The Compendium of Stones was one of the best I have seen as it also included the history of stones as many books opt not to include that in their descriptions. Two reference guides are also included at the back of the book that list the magical correspondences for the crystals such as ruling deities and planets. Once again this was very helpful. Whether you are a beginner or more advanced crystal practitioner, this book creates a solid foundation in understanding crystals from their historical and geological perspectives. Understanding crystals, gems, and minerals history and compositions creates a deeper and richer appreciation for these marvelous rocks.
3. The Body Heals Itself by Emily A. Francis
The Body Heals Itself looks at muscle memory from a metaphysical perspective. This book has a Louise Hay ring to it because she built her career on her books about the emotional body. This book takes it a step further by focusing in on our muscles- which is something Louise Hay did not.
A discussion on the biology of muscles was included to help readers understand their functions. From there, muscles as storehouses for memories was included using both biological and spiritual examples. The author's main point was that when muscles are massaged and stretched- emotions are released. She gave examples of clients she worked with who were able to discuss and heal old wounds when their muscles were massaged and activated which helped to prove her point. Chakras and meridians were also described, which is pretty standard for these types of books.
By the far the most interesting and important part of the book was learning the emotional component of each muscle group which is directly linked to their functions. Stretching techniques were included, along with recommended crystals, and essential oils. The main thesis of the body healing itself comes through when by the end of the book we are reminded that muscles remember when they are healthy as does the body. Our body stores emotions in order for us to go within and release them. Healing can only occur when the body is an active participant.
Overall a fascinating read that will ultimately offer a deeper appreciation of something we take for granted- our muscles.
Most Unusual
1. The Cairo Pulse by B.B Kindred
This book was a metaphysical exploration of the collective consciousness, magnetism, memory recall, and the limits of the human experience. The main character Gabriel, an architect, begins to tap into the reservoir we call the collective consciousness due to an enigmatic character named Cairo. Think of it as a database where old memories, suppressed feelings and thoughts get archived. I couldn't help but notice that the use of architecture throughout the story was reminiscent of a classical technique known as the Art of Memory. This technique required the individual to create a mental picture of a building with rooms. Usually this building was one which was familiar to the individual. Different objects would be envisioned in each room, leading the individual through the building of their mind. This technique was used ultimately for memory recall. I wonder if the author intentionally or unintentionally incorporated this technique into the story? Regardless, it serves as a genius metaphor for memory retrieval. The human mind is like a building with thousands of rooms that contain compartmentalized experiences. Deep spiritual practices such as meditation or for the purpose of this book- magnetic pulses, can assist with breaking into these rooms to collect what was believed to be lost. The story makes a point that it's not simply about remembering what once was- rather it's a full mind, body, soul experience that shatters the five senses into heightened awareness, and creates a spiritual awakening whereby one realizes that nothing is ever truly lost- but simply unconscious. If time is an illusion, than what once was, is what is now. Artificial memories become the norm such as memorizing useless information, and forgetting what happened merely minutes ago, while natural memories become stored into a hermetic reservoir. The human mind can be both logical and illogical at times, and The Cairo Pulse explores this idea- pushing the boundaries of what we believe to be the human potential.
The story is overly descriptive and wordy, but I appreciate this complexity as simplicity would have been a disservice to this mind boggling journey. The Cairo Pulse will challenge you to dig deep within yourself in order to align to your highest potential. If The Cairo Pulse is deemed a sci-fi novel, than I am very excited for this genre to explore the spirituality of science.
Disappointing Reads
Healing From Within by Ryuho Okawa
Healing from Within was a bland attempt at explaining the mind body connection. It's a difficult topic to tackle considering the forerunner of this topic is none other than Louise Hay whose underlying metaphysical causes of disease has captured the hearts and minds of many. My biggest contention with this book was the discussions of the mind body connection in general. Nothing new was introduced here, nothing that the readers of this book wouldn't already know, for instance we all know stress causes disease. But Mr. Okawa's advice of spending money to manage one's health is contradictory to his other messages of not allowing work and our busy lives to consume us. How can one spend money on managing their health if that requires slaving away at work to earn that very money that is one answer to combating their stress? The book took a turn when evil spirits were introduced as a culprit to disease. I appreciate Mr. Okawa's religious and cultural background, but to imply that evil spirits seek out those with eating disorders is a little ridiculous, even for those of us who are more metaphysically inclined. If an analogy was made between evil spirits and state of mind, then perhaps this book could have gone in a different direction, where a comparison of different socio-cultural viewpoints of disease could have been introduced. Unlike Louise Hay who looked to our actual state of minds and feelings as the harbingers of disease, I was disappointed that Mr. Okawa did not focus more on the mind itself. His explanation is that the when the mind is suffering from depression or other ailments, this draws negative spirits to the individual, inciting disease. There seems to be a disconnect with his thesis of the mind body connection and what his book actually discussed. I am sure many people will appreciate this perspective, but I just wish he took everything a little further. I enjoyed his brief sections on Death and the Disabled, but it did not go anywhere. Infusing this book with more focus on the mind and our emotions as opposed to demons would save this work from turning into a weak, boring, and at times ridiculous exploration of healing.
2. Sigil Witchery by Laura Tempest Zakroff
Sigil Witchery explores sigil magick all the way from the past such as heiroglyphics, up to the modern day present with graffitti. This book is different in that it does not show you how to make a traditional sigil using a kabbalah numbers grid. It would have been helpful to show how to make a traditional sigil rather than simply mention it and move on. The instructions on how to make a sigil were based on modern magick and witchy sovereignty. A discussion on why certain symbols were sacred to certain peoples were mentioned in many chapters which was a prelude to finding one's own symbolic significance.
Personally, I wished a more methodical approach to sigil witchery was the focus of this book, as opposed to just making your own sigil without any specific system. There was a recurring theme of playing around with shapes and designs that does require a certain level of artistry in my opinion. Not only does this turn away a large audience, but for those looking for a more ritualistic and traditional approach to sigil magick, this book would not be satisfactory.
My advice to the author would be to devote some time to explaining traditional sigil magick in order to lay the proper foundation for readers.
That's all folks! I will see you and my book reviews in 2018.
If you would like me to review your books, please send me a message and I would be more than happy to feature them here on my blog.
Keep reading!