If you are not familiar with the television series 'Penny Dreadful,' stop everything you're doing, take a couple of days off, and binge-watch the entire series. "Many people are familiar with classic literary characters like Dr. Frankenstein and Dorian Gray. Penny Dreadful brings those and other characters into a new light by exploring their origin stories in this psychological thriller that takes place in the dark corners of Victorian London."
One of the main characters is Vanessa Ives- played by the marvelously Gothic actress Eva Green. Vanessa Ives is a psychic medium, cartomancer, and witch, who's nick name is Little Scorpion which was given to her by the very first witch she met. Throughout the series- Vanessa draws a scorpion symbol in blood which acts as her totem, talisman, and sigil. She draws the Scorpion symbol as a means to protect herself and to delve deeper within herself. The origins of this symbol are revealed later in the show, but it's very obvious that Vanessa Ives is a Scorpio. She is seductive, dark, and has many emotional demons…….and some not so emotional demons residing inside her. She seems to know throughout her whole life that there is something dark within her that she does not dare release…….a common Scorpionic theme.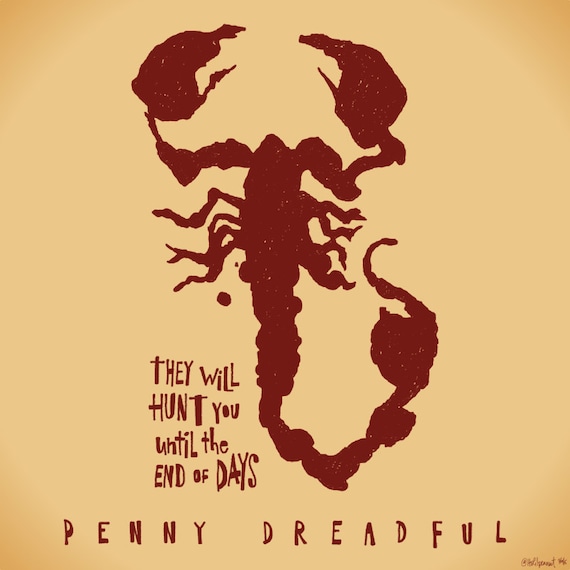 Sigils
If Vanessa uses the Scorpion symbol as her protective talisman and as a means to connect to her inner demons without unleashing them, than that must mean that we can use our own symbols for the same purpose.
This is the sigil for Scorpio:
The M of the sigil signifies Mother Earth and the planet Mars which is Scorpio's traditional ruler. The tail represents the Scorpion's tail and poison which is its ability to paralyze people using psychological techniques.
I created a ritual using the character Vanessa Ives as inspiration.
The Ritual- Ives (pronounced Iv-ez) Scorpionem
Find a quiet space.
Close all the lights.
Light a black candle.
Have a few blank pieces of paper ready along with a red pen or marker.
Begin by drawing the Scorpio sigil- size doesn't matter.
Continue drawing the sigil, allowing your mind to wander.
The Scorpio sigil will activate your own Scorpionic energies within you.
What are you feeling that wants to be unleashed?
When you recognize what this feeling is, stop drawing the sigil.
Take a piece of smoky quartz in each hand- and recite these words:
"I am strong-willed and agile like the Scorpion."
"I am most who I am unrestrained."
Blow out the black candle.
Scatter sea salt on your Scorpion sigils.
Collect all of your sigils into one pile.
Place a piece of Aquamarine on the top page of the pile to wash away any negative energies.
The ritual is complete.
Perform the ritual every Tuesday during Scorpio season.